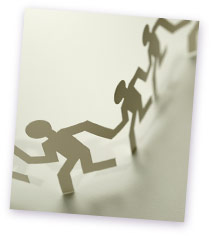 Workshops and Training
I offer bespoke training packages to meet the needs of individual organisations for individual professionals, teams of staff and with children and teenagers in schools and colleges. I also offer an introduction workshop for anyone who is interested in becoming a Dramatherapist. Some examples of recent training workshops can be seen below, which can be adapted to suit your needs.

All workshops and trainings include printed handouts and leaflets, and training for staff also includes attendance certificates which can be used for proof of CPD hours.

Training Workshops for Staff & Professionals
Workshops for Prospective Trainee Dramatherapists
Workshops for Children & Young People in Schools
Training Workshops for Staff & Professionals
Child Development Training
Suitable for all professionals working with early years and primary education such as teachers, teaching assistants, carers and other staff.

"This training was the ideal balance of theory and practical which worked perfectly for my team as it kept them engaged and was enjoyable. I now have a team with much more knowledge and this has directly resulted in more parents signing their children up to classes at Gymboree West Byfleet"


Emma, franchise owner of GYMBOREE - the global leader
in early childhood developmental play, art and music classes.



---
Team Building Workshops
Suitable for any work place organisation for improving communication and a sense of working collaboratively, exploring group dynamics and looking at various roles in the workplace.
"Before the workshop I hadn't realised how much of an impact it had that I didn't speak up for myself in my team. Now I feel we can work much more as a team in order to meet our targets and I am not so worried about making my voice heard."


Jenny, new recruit for a well known insurance company.
---
Introducing the Arts in Counselling Practice
Suitable for any counsellors or psychotherapists who are interested in using the creative art forms in sessions. Arts include drama, story, movement, art and music.
"It was really interesting to see how the arts can be integrated into counselling sessions. Since the workshop I am now using the arts much more, especially as a way in for more resistant clients. Thank you!"


Ben, private counsellor.
---
Practical Workshop around a particular Theme or Story/Myth
Suitable for all organisations where exploration of a theme can be useful for improving on effective practice. I can provide more information on this for each place of work.
"Emma helped us identify which theme our team needed to work with. As a result of the workshop based on 'the role of rescuer' the staff were able to find new ways of thinking about our clients independence whilst still maintaining the support that they need."


Sue, Manager - Care Home, Surrey.
---
Introduction to Dramatherapy for an Educational, Clinical or Care Setting
Suitable for any school or other organisation that is interested in finding out more about Dramatherapy and how it can benefit their children young people or adults. Partly theoretical and partly practical, there is opportunity to reflect on the creative elements and how they support the needs of that setting.
This workshop is specifically designed for those who are considering implementing a Dramatherapy provision into their school or organisation and it can be tailored to the specific client group in your setting.
---
Workshops for Prospective Trainee Dramatherapists
Introduction to Dramatherapy
Suitable for anyone who is interested in finding out more about a career in Dramatherapy. An experiential workshop which will give you practical examples of what this way of working involves, as well as information on trainings in the UK.

This workshop is run periodically in Surrey. Please contact me for the next upcoming workshop dates.

"I am so glad I attended this workshop. By the time I had my interview for one of the Dramatherapy trainings I felt I had a much better understanding of Dramatherapy than others who I also met applying, and thanks to Emma's helpful advice I had all the relevant experience in place and was accepted onto the course."


Lucy - now a Trainee Dramatherapist.
Workshops for Children & Young People in Schools
I can provide workshops around a specific theme for children and young people to work together and to explore their feelings around a certain theme with the support of their peers. These are practical workshops and may contain puppets, toys, stories and other creative methods.

Popular themes include:

Bullying

Stranger Danger

Staying Safe Online

Caring for a Family Member

Transitions (e.g. Primary to Secondary school)

Secondary School Leavers

Relationships & Sexual Health

Say No to Alcohol & Drugs

Anger

Loss & Bereavement

Making friends (ASD specific)

For information on costs and availability for any of the workshops or trainings listed above please contact me with your requirements.