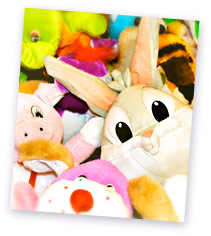 Dramatherapy with Children & Young People
I have over ten years experience of working with children and young people as a Dramatherapist and also a Drama Practitioner, Drama Teacher and an Early Years Teacher. I am also the founder of 'The Leap Frog Kids' – confidence building Dramatherapy workshops run in schools and in school holidays to support children with low self esteem, shyness, school related anxieties and issues around transitions and bullying.

It is impossible when working with children of any age and in any capacity not to notice how important drama and play are to their every day life. Drama and play are a crucial part of healthy human development, and it is for this reason that Dramatherapy can be an effective form of intervention to help troubled children and young people.

When children and young people are faced with difficulties it may be hard for them to express their feelings in a verbal way, but through the creative mediums of drama, play, story, art, music and movement, Dramatherapy can help them to be understood and can promote their emotional and social wellbeing.


Because of this, Dramatherapy is now readily found in many educational settings, care homes, children's services, children's hospitals and clinics and young carers organisations. It is also being more readily sought out privately by parents and carers to support their children through difficult times.

Referrals can come from parents & carers, teachers, SENCOs, teaching assistants, doctors, psychologists and other staff in children's settings and reasons for referral cover a wide range of circumstances. They can include;

Emotional Issues such as trauma, abuse, loss or bereavement, attachment issues, bullying, changes in home life such as foster care and adoption


Behavioural Issues such as violent behaviour towards others, anger issues, bullying, swearing, destruction of property, stealing, self harm


Learning Difficulties - mild, moderate, severe, profound and complex including those on the Autistic Spectrum


Speech & Communication Difficulties including non verbal and elective mute individuals


Social Issues such as the need to improve empathy, listening skills, ability in working with other children, interaction with others, expressing feelings


Mental Health Issues such as depression, suicidal thoughts and eating disorders amongst others

Both in my private practice and my freelance work in organisations I have a wide range of toys, figures, puppets, masks, costumes, props, games, art materials and tactile materials for use in Dramatherapy sessions. In my private practice in Woking I also have Jungian Psychotherapy sand trays with a large choice of figures and toys to be used with these and a mirrored observation window for assessments when appropriate.

I can provide one to one, small group, sibling group, parent & child and family Dramatherapy both privately at my practice in Woking, and on a freelance basis to schools, clinics and organisations.

For more information about this you can visit the relevant pages on the website or email me for more information.



"I liked doing Drama[therapy] with Emma because she made me feel more happy again like before I felt sad when the thing…happened."


Private Client P, aged 5.



"Emma always made [Client P] feel so special, which enabled her to feel totally at ease and able to work through an extremely difficult situation for a child her age to have to deal with. I attribute a good part of Emma's influence on [my daughters] confidence, sense of self worth, and positivity, all values I strive myself to teach my children. I am grateful for all her hard work with my daughter to help her find her smile again."

Mother of Client P.
"We are extremely thankful for the support Emma has provided to our young carers. All the carers involved in the group have benefited hugely from this experience. The team and I are sad that the funding has ended for this Dramatherapy project and will be in touch as soon as we can secure more. A great big Thankyou from the team and the young carers themselves."


Project Coordinator, Young Carers Organisation.
"Emma has been working at our clinic for the past two years, treating [young people] with eating disorders. Emma's warmth, enthusiasm, positive manner, and dedication seem boundless and serve to put even the most anxious clients at ease."

Tina Barta, Clinical Psychologist at Caraway Clinic.